The Cleveland Indian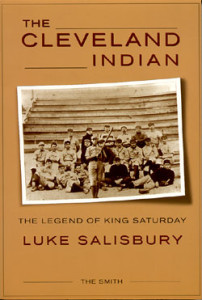 Henry Harrison, narrator of both The Cleveland Indian and Hollywood and Sunset, is my alter ego. Henry's father was wounded at Antietam, the family fortunes faded, he received a gentleman's education but had to make his way in the world. Henry didn't want Wall Street. He wanted baseball. Baseball was his art, his imaginary world, he dreamed of helping players get a better deal from the tightfisted owners of the 1890s. Henry falls in love with two women – one who is home, one who is not. Henry lives out the fantasy of being the closest friend to the most talented ballplayer of his time – the enigmatic King Saturday, a Native American, the original Cleveland Indian. The novel is about a young man wanting to recapture what he thinks his family lost, missing a father who knew war and could not talk about it, falling desperately in love with what he can't have, and what he must have. Henry sees baseball as an American Eden, a perfect aesthetic place, the Keatsian "Much have I traveled in the realms of gold." He finds it is not.
The Cleveland Indian is a novel about that time in life when one wants to change a piece of the world. Own. Dare. Win. Lose. It's also about disappearing frontiers – internal and external. About getting what you want and the price of holding it. You see, there is Eden and the memory of Eden.
It's also about the mysterious, violent King Saturday, and a question: Where does revolutionary energy go in America? If you are truly an outsider, truly willing to confront power, get power, kill, love, throw baseball games, do anything – the question is not what, but where? There are many answers to what. Some legal, some not; some poetic, some mad, many ridiculous. The question is where do you go? Who do you work for? Who do you undermine? How long do you last?
Henry searches. For baseball, love, the Indian himself. Like most young men, he thinks he can contradict Jack Kerouac: "Not the biggest fighter, the biggest drunk, or the biggest lover, can find the center of Saturday night in America." That quote is the centerpiece of a chapter of The Answer Is Baseball; I'm sure it is the origin of the name King Saturday (I didn't realize that until just now).
The Cleveland Indian, originally published by The Smith in 1992, will appear in a new edition in Spring, 2005 with Black Sparrow Press. The novel was taught in an American Literature course at Indiana State University, and is the subject of a chapter in David McGimpsey's Imagining Baseball: America's Pastime ansd Popular Culture.